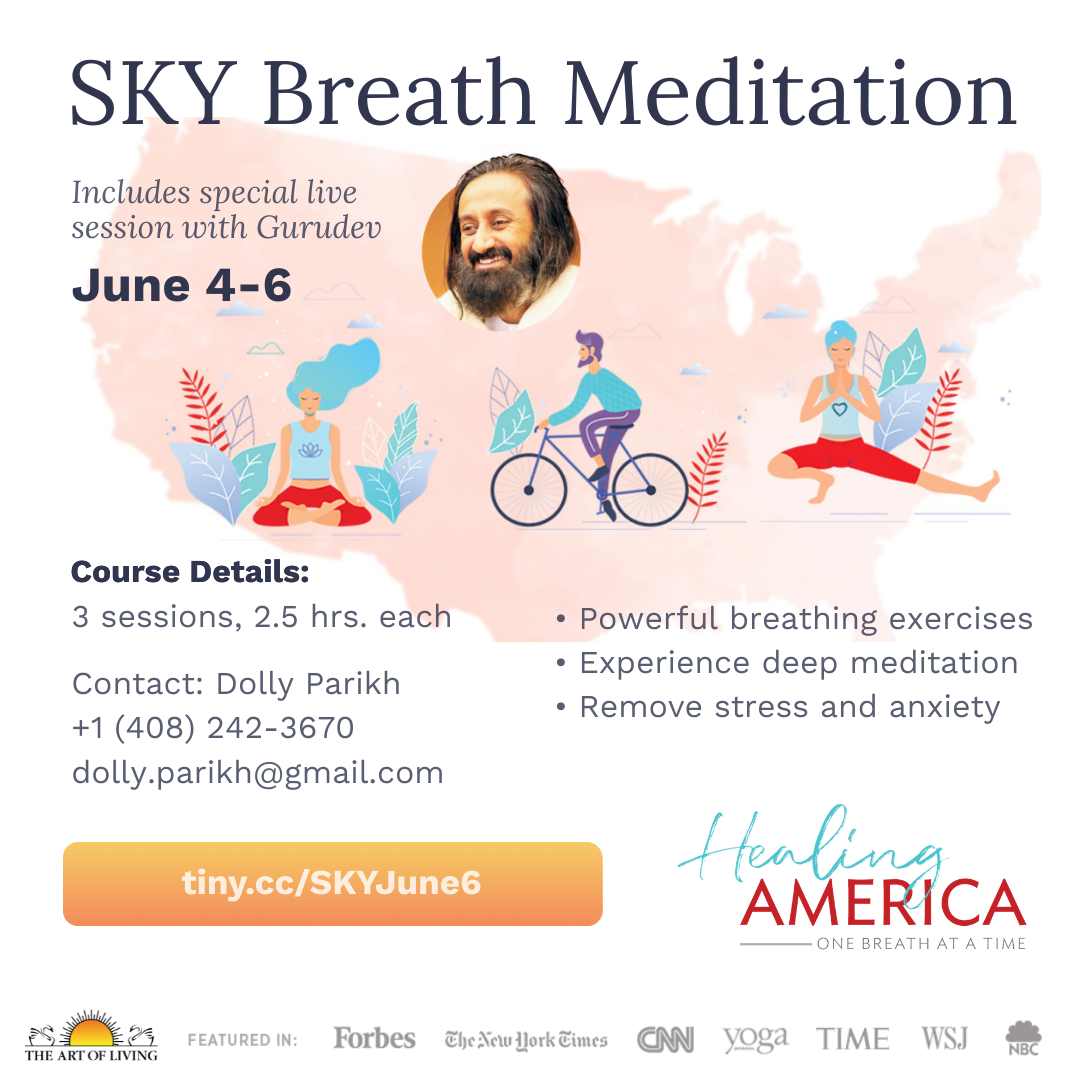 SKY Breath Meditation Technique for HEALING AMERICA!
'Healing America' aims to revitalize communities through a nationwide online program focused on promoting healing across the country, where participants will learn evidence-based SKY Breath Meditation techniques.
Over 100 independent studies (including ones from top-rated universities such as Yale, University of Arizona, and Harvard) published in peer-reviewed journals have demonstrated a comprehensive range of benefits from practicing SKY Breath Meditation such as reducing stress, relieving anxiety, improving sleep, enabling a calm state of mind while making people feel happier and more optimistic.
Over a thousand individuals across the USA will take part in this initiative by participating in a three-day online workshop.
The planet is currently going through challenging times and needs healing. Hence, the importance of breathing and meditation is starkly recognized. Since the onset of the Covid-19 crisis, the Art of Living Foundation has come forward to support various communities in America, including healthcare heroes, people of color, senior citizens and their caregivers in nursing homes/shelters, children, and educators. 'Healing America' will provide a unique opportunity for different communities to come together and experience the power of SKY Breath Meditation, allowing participants to discover a state of deep inner calm and happiness.
For more information, visit the official Healing America website.
Additional Information
Art of Living
The Art of Living Foundation (AOLF) is a non-profit, educational and humanitarian organization founded in 1981 by the humanitarian and spiritual leader Gurudev Sri Sri Ravi Shankar. The organization is operating in 156 countries. AOLF's programs follow Sri Sri's philosophy of creating world peace through a stress-free and violence-free society. AOLF has touched over 400 million lives through numerous educational and self-development programs and tools that facilitate eliminating stress and fostering deep and profound inner peace, happiness, and well-being for individuals.
Sri Sri Ravi Shankar
Sri Sri is a humanitarian, spiritual leader, and peacemaker. He founded global non-profits the Art of Living Foundation and the International Association for Human Values – two of the largest volunteer-run non-profits in the world – to help relieve stress and trauma, teach human values, and increase happiness. He has created trauma-relief and meditation programs for at-risk youth, war veterans, prisoners, and disaster survivors. He has been an invited speaker at institutions like the United Nations, the European Parliament, the World Economic Forum, and the Israeli Presidential Conference.