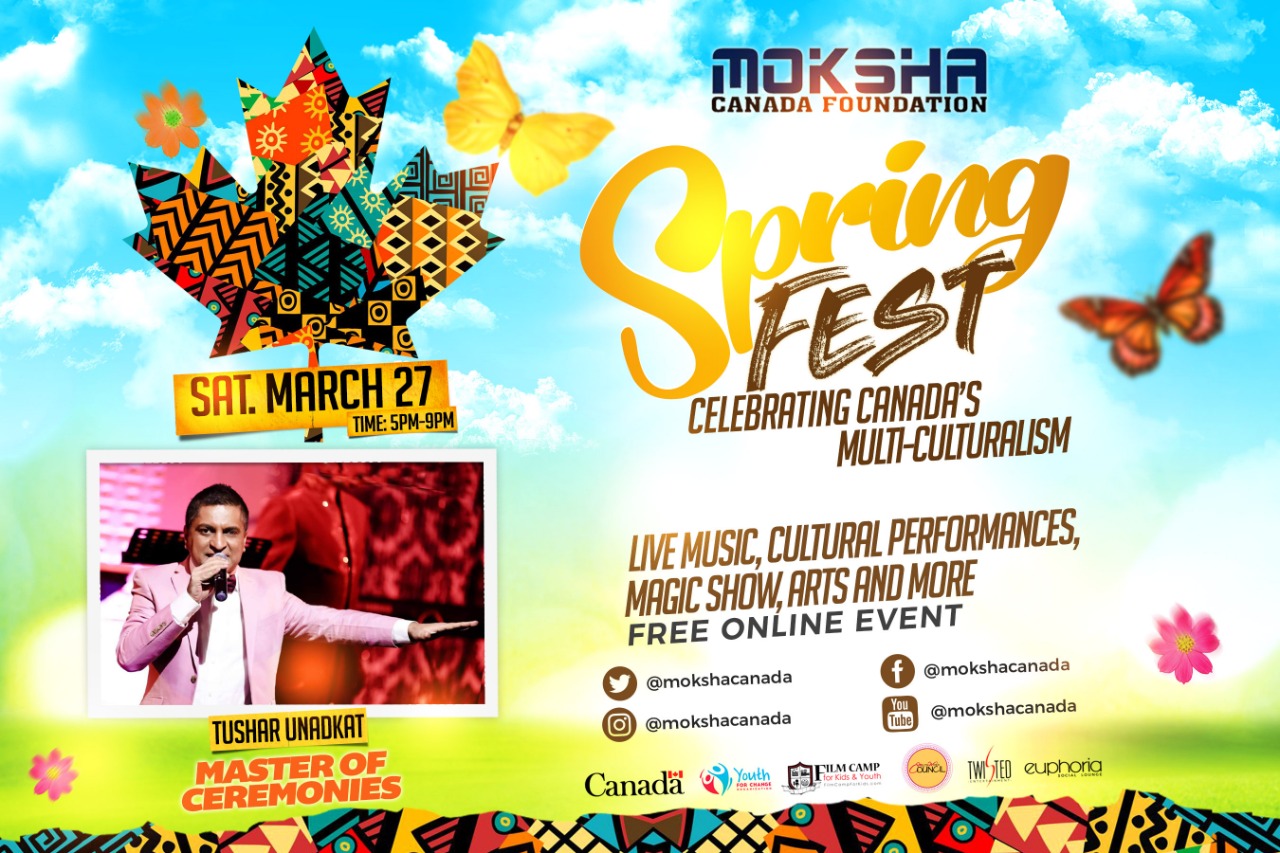 On Saturday, March 27, from 5 – 9 PM, with a kid's component on Sunday, March 28, from 2 – 4 PM, MOKSHA Canada will showcase the first-ever SPRING FEST celebrating multiculturalism. This Festival will go live via Facebook and YouTube with FREE admission. Some local artists with significant talent and achievements are 6DEUCE, SIMONE, Ensemble Topaz, and Girl Pow-R. The Master of Ceremonies is Isabella Milano and Tushar Unadkat.
"Canada is home to immigrants and proudly celebrates diversity day in and day out. It is in recognition of this effort, we bring you the Spring Fest," says Mr. Sunil Channan, Founder, Executive Director, MOKSHA Canada Foundation.
Celebrating Canada's Multiculturalism is another step toward eliminating discrimination, racism, and prejudice in Ontario, Canada, and the world. Indeed, festivals and events such as these are beneficial in promoting multiculturalism and unity.
This Festival encourages positive interaction between cultural, moral, and ethnic communities and promotes the expression of multiple identities to increase participants' sense of belonging and attachment to Canada. In addition, we will highlight the incredible talent of various local artists from different artistic and cultural backgrounds.
In addition, MCF invites you to participate in
SPRING FEST – PHOTO CONTEST!
3 Winners! $300 Cash Prize each.
Photo Contest Ends on Friday, March 26, 2021, at 9 PM | FREE ADMISSION
To participate:
– Upload your best photo to Facebook/Instagram or both
– Please tag & check in Moksha Canada Foundation.
– Use the hashtag #MokshaCanada in your post.
Photos with maximum likes and comments will be the Winner.
"Moksha Canada always find new and innovative ways to share our culture and tradition while celebrating the multiculturalism and diversity that makes our community so vibrant and strong," said the honorable Mary Ng, Minister of Small Business, Export Promotion, and International Trade, Canada.
Moksha Canada Foundation is a registered not-for-profit (Ontario Based) operating since 2014. The word "Moksha" originates from the Sanskrit language, which refers to liberation and releasing forms.
We believe the spirit and joy of "Moksha" can only be attained by celebrating cultures and the selfless service of those from the most marginalized backgrounds.
"The commitment of Spring Fest to diversity and inclusion is both noticed and appreciated. Festivals like this in Canada are integral to fostering greater inclusion and connection. They give us the chance to express and embrace the uniqueness of the diversity of countries and culture," said the honorable Bardish Chagger, Minister of Diversity and Inclusion and Youth.

For sponsorship opportunities, contact info@mokshacanada.com | 647 831 7223
For more information, please visit: www.mokshacanada.com
Follow us on social media @mokshacanada for updates.
~30~ SPRING FEST Celebrating Multiculturalism