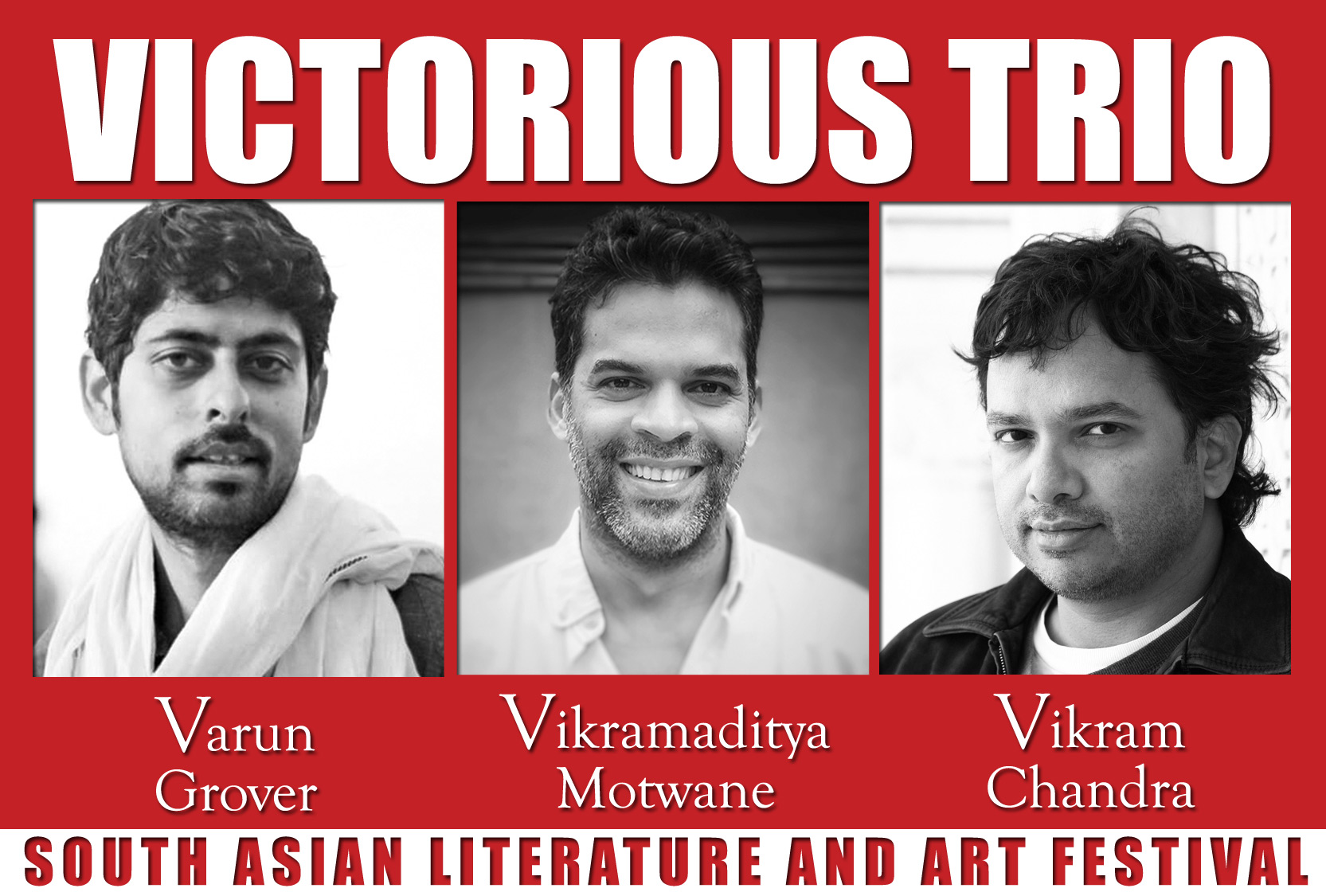 For the first time, Netflix India's Sacred Games is nominated for International Emmy Award 2019 in the Drama Category. The crime thriller is directed by Anurag Kashyap and Vikramaditya Motwane.
For the first time, the Victorious trio of Netflix Original series SACRED GAMES – Author Vikram Chandra, Scriptwriter Varun Grover, and Director Vikramaditya Motwane, will be on one panel at the South Asian Literature and Art Festival.
For the first time, Montalvo Arts Center and Art Forum SF in collaboration with UC Berkeley Institute of South Asian Studies brings to you one of the largest South Asian Literature & Art Festival (SALA) in the US.
SALA Festival will be held at the Montalvo Arts Canter, Saratoga from Oct 6 – 13, 2019 from Noon till 5 pm.
"Absolutely thrilled to be attending SALA this year. Am hoping to share my insights and process of writing SACRED GAMES and interacting with the fabulous and knowledgeable delegates of SALA", says Varun Grover, Scriptwriter for Sacred Games with much enthusiasm.
Besides, the victorious trio, to name a few writers and poets lined up for SALA Festival includes Shanthi Sekaran, Minal Hazratwala, Athena Kashyap, Tanu Wakefield, Siddharth Dube, Raghu Karnad, Nayomi Munaweera, Mitali Perkin, Naheed Hasant Senzai and Moazzam Sheikh, contemporary artist Rekha Rodwittiya, art collector Dipti Mathur and Priyanka Mathew will be sharing their insights and expertise.
There is a special event on October 18th from 7:30 pm with critically acclaimed director Anurag Kashyap. Tickets are limited and for $25 only for this special event.
Witness an elaborate and enriching encounter with legendary actor, painter, and poet, Deepti Naval, in conversation with Prof Harsha Ram from UC Berkeley.
"Art Forum SF is a platform to have a dialogue for poets, artists, and writers that are part of the emergent world of the subcontinent. They are young, vibrant and poised to tell their stories that affect all globally but need to be heard. A young poet, an established writer, a nonfiction writer, a screenwriter, an iconic artist, all gather to talk about what inspires them." said Mayuranki Almaula, one of the Founder member, BOD and Literary Segment Curator.
Moving from the conventional understanding of the diaspora culture, usually expressed through stereotypical tropes like nostalgia, roots, homeland/soil, memory, etc. The participants exemplify the assimilation and absorption of various local and global sources that have drip irrigated their works, to help break the conventional and to explore further. The talks will be moderated by academicians from UC Berkeley Institute for South Asia Studies and experts from the respective fields and will provide the audience an opportunity to interact with the speakers.
"The South Asian Literature and Art Festival is a wonderful platform to showcase the rich and diverse 'contemporary' work coming from the South Asian diaspora. There is a plethora of award-winning work in both literature and art, which usually goes unnoticed but a festival like this provides you an opportunity to experience it and raises the profile of such work", said Ambika Sahay with passion, Founder and Executive Director Art Forum SF.
On October 13th the SALA Festival closing event will showcase two documentary films, one is a short doc titled GuruCOOL, produced by Mettle Films and directed by an Indo-Canadian Director Sangita Iyer that looks at the Indian educators in the 21st century education system. (India/Canada, 32 minutes, English). The grand finale is Sumantra Ghosal's KAIFINAMA, produced by Mijwan Welfare Society looks at the life and art of the Urdu progressive poet Kaifi Azmi. Kaifi Azmi was both a poet for social change as well as one of the foremost lyricists in the Hindi film industry. (India, 90 min, Hindi, Urdu with English subtitles). These films are programmed by Tushar Unadkat and is jointly presented by Art Forum SF and BASAFF (Bay Area South Asian Film Festival) at Serra Theatre 200 Serra Way #37, Milpitas CA 95035.
"The soft powers of the world – Art, Literature, Music, and Dance allows people to express themselves and how they view the world. SALA embodies these powers," said Kiran Malhotra with conviction, BOD – Art Forum SF, Arts Curator – SALA 2019.
The festival aims to offer a unique experience not just for established professionals but also for emerging professionals and young minds. Along with the presentations and discussions there will be children's hands-on craft activities, writing programs, South Asian food stalls, art-related exhibitors, and dance performances, all to suit individuals of varying tastes, interests and ages.
For more information about media & marketing opportunities and to interview the celebrities, please contact MUKTA Advertising at info@m-a.ca | 416.716.8582.
For all current updates, artist bios, tickets and other literary and art exhibits, please visit: www.artforumsf.org